Miss D supported us with 2 tickets

Mr M supported us with 2 tickets

Mr B supported us with 2 tickets

Miss E supported us with 1 ticket

Mr E supported us with 1 ticket

Mrs L supported us with 2 tickets
---
1d 3h 19m

28 May 2022
---
Winner! Mrs F (POULTON-LE-FYLDE)

Won £25.00!

Winner! Mrs S (Thornton-Cleveleys)

Won 3 extra tickets!

Winner! Mrs F (LYTHAM ST. ANNES)

Won 3 extra tickets!

Winner! Ms D (CARNFORTH)

Won 3 extra tickets!

Winner! Ms C (THORNTON-CLEVELEYS)

Won 3 extra tickets!

Winner! Mr M (FLEETWOOD)

Won 3 extra tickets!

Winner! Miss M (FLEETWOOD)

Won 3 extra tickets!

Winner! Mr F (Lytham St Annes)

Won 3 extra tickets!

Winner! Mrs W (THORNTON-CLEVELEYS)

Won 3 extra tickets!

Winner! Mr S (POULTON-LE-FYLDE)

Won 3 extra tickets!

Winner! Mr B (Preston)

Won 3 extra tickets!

Winner! Mr G (PRESTON)

Won 3 extra tickets!

Winner! Mr W (BLACKPOOL)

Won 3 extra tickets!

Winner! Ms F (PRESTON)

Won 3 extra tickets!

Winner! Miss I (Blackpool)

Won 3 extra tickets!

Winner! Ms S (THORNTON-CLEVELEYS)

Won 3 extra tickets!
About us
Thornton Cleveleys Operatic Society provides a much loved and valued service for the community.
In 1936, Tom Greenall posted an advert in the Evening Gazette to invite like-minded people to the Regal Hotel in Cleveleys. Tom had an idea to put a group together to perform operettas locally. The inaugural meeting led to the formation of the Thornton Cleveleys Amateur Operatic Society and the process began to produce their first production; Gilbert & Sullivan's 'The Mikado' which was staged in 1938.
Fast forward 84 years and the society continues to deliver 2 high quality productions each year to delight audiences in the local community. There is still a close connection to our founder members as our president, County Coucillor John Shedwick's parents, aunt & uncle were founder members of the society.
Over the years, the society has performed in all the major theatres in Wyre and Blackpool including the long-gone Queen's and Orion Theatres in Cleveleys, The Grand Theatre and Winter Gardens Pavillion in Blackpool, the Teanlowe in Poulton, the Thornton Lecture Hall (now Thornton Little Theatre) and The Marine Hall in Fleetwood which has been the societies main venue for their large scale musicals since the late 1980s.
Since its first production in 1938, the society has performed a show every year, including during the Second World War when its membership was enhanced by a number of Civil Servants who were posted to the old Norcross Government Buildings to work and who were keen to continue their hobby.
For many years, rehearsals were held at the Park Club on West Drive however, in the 1960s, a piece of land became available in Ritherham Avenue and this was bought by the society. After a massive fundraising effort, the rehearsal hall was built. In 1963, the hall was officially opened by the society's honorary patron at the time, Violet Carson, known to millions as Ena Sharples in Coronation Street.
The hall has served the society well ever since as both a rehearsal hall and significant means of income. It has played a huge part within the local community as it has been hired by dance schools, martial arts clubs, nurseries, gymnastic clubs, other local theatre groups and for private parties in recent years.
It is currently used most nights of the week for a number of different activities; adult tap classes, three different young performers organisations and a karate club. It is very much a venue that serves all aspects of the community.
The main rehearsal space is approximately 20' x 30' and boasts a mirrored wall. Within this space is a small private meeting room and from the main hall is a fully fitted kitchen. There is also a large loft which is used to store props and costumes. Toilets are in the main foyer leading into the hall. In the 1980s, the hall was extended to add another space used for building scenery and extra rehearsal space. Over the years this space has been divided into 2 rooms and serve as a wardrobe storage space and extra rehearsal /waiting area. Access to the hall is suitable for wheelchairs and there is a reasonably sized car park which accommodates 10 – 15 vehicles.
As with any older and fully utilised properties, there is a need to modernise the facilities. We have previously looked at (and had plans drawn up for) potential improvements that would modernise the facility including electrical and internal building work, replacing the current ceiling, building steps and a mezzanine to provide easier access to the loft and installing new toilets. Such improvements would enhance the experience of our members and our hirers thus providing financial security for the society in the years to come.
Should we be fortunate enough to secure some funding from the new Wyre Lottery, we would look to revisit these plans.
Amateur dramatics is often belittled by those who are not involved, however the days of wobbly scenery and ham acting are long gone and our production costs are often in the region of £25,000 as we strive to offer the very best quality.
Over the years, thousands of people have walked through our doors and performed with us. Many have stayed and the society has become a way of life where lifelong friendships are formed and families are made.
A number of performers have gone on to have successful careers in show business both on and off stage. Jan Currey was a leading lady in the 1960s before becoming one of the leading theatrical agents, representing some of the industry's biggest names. John Lawrenson was an accomplished tenor who had a successful career and often came back to perform when his commitments allowed. Jean Rigby, our Honorary Patron, is one of the country's most acclaimed opera singers and was a regular performer at Glyndebourne as well as the Proms. Chris Colby is an impresario responsible for a number of provincial touring plays and musicals. His brother Michael Morgan has performed in many West End and touring musicals including Me & My Girl and Oliver at the London Palladium. More recently, our casts have included Oliver Jacobson who is currently starring in the West End production of 'The Book Of Mormon', Hayley Tamaddon who has starred in both Emmerdale and Coronation Street as well as numerous touring productions and a young Alfie Boe who was a member of the chorus for our 1990 production of Oklahoma!. It was as a result of this production that our Musical Director, Frank Salter, introduced him to the world of opera and the rest is history.
Each year, the society perform 'Songs from the shows' and a full scale musical. The 'Songs' give all members who have a desire an opportunity to perform solos and offer a chance for our own members to develop themselves in the role of producer whilst the full musical allows them to perform with a large orchestra on a professionally staged set. In addition, we regularly perform within the borough in churches, at charity events and community open days.
We perform musicals to suit all tastes and in the past decade have performed a diverse range of shows including, 'South Pacific', 'Pirates of Penzance', 'Jesus Christ Superstar', 'Oliver!', ' Annie', 'Sister Act' and our first venture into the 'jukebox musical' with our 2019 offering 'Shout – The Musical'.
It was following our production of 'Oliver!'' that 2 of our members, keen to build on the enthusiasm and recognising the talent of the children that joined us for the show, expressed an interest in reviving Thornton Cleveleys Youth Theatre. Whilst this group is a completely separate organisation, we provided (and continue to offer) advice and support to ensure a whole new generation of performers continue to provide high quality entertainment within our community.
During the week of each show, we raise money for a given charity (often one close to a member of the company) and donate proceeds from a nightly bucket collection and from the raffle of the Friday evening performance. Over £10,000 has been raised for various charities since we introduced this initiative some 25 years ago.
The society is completely self-funded and managed by a dedicated team of elected officials and executive committee, all of whom are volunteers. We offer our members an enjoyable and affordable hobby; we encourage and nurture individual talent; we are welcoming and inclusive; we provide opportunities for our members to develop their skills and grow in confidence; we provide a family-like environment where individuals of all ages work together to achieve the common target.
We are committed to ensuring the vision of our founder members at that initial meeting in 1936 continues to be met so that audiences within Wyre and beyond are able to enjoy quality and affordable musical productions courtesy of THORNTON CLEVELEYS OPERATIC SOCIETY for many more years to come. Receiving some financial support from the Wyre Lottery would go a long way to helping us achieve this.
Thank you for your support and good luck!
Yours sincerely,
Alison Edwards
Chairman
Help us share our cause on social media
How the lottery works
That's right, unlike many other lotteries, our lottery tickets are only £1 per week.
50% to your chosen cause and 10% to other causes in Wyre.
Match all 6 numbers and you win the JACKPOT!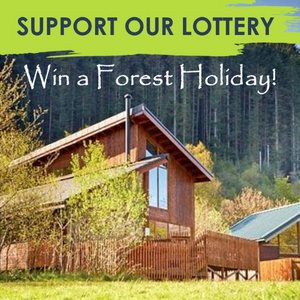 Win A £1000 Forest Holiday
Ever want to get away from it all? Well here's your chance - get your tickets before 25th June for your chance to win a fabulous Forest Holiday to the value of £1000! Choose from 12 different locations throughout the UK.